MS. BATHMAVATHI KRISHNAN
Bathmavathi Krishnan has been an active advocate on the rights of Persons with Disabilities in Malaysia for the last 44 years. Having to use a wheelchair since age 21 after an accident that left her paralysed from waist down, it did not deter her from continuing her tertiary education and seeking employment. After graduating from University of Malaya in 1978 she entered the workforce as a Librarian at the UM Library from 1979. She won a British Council scholarship to pursue her Masters in Library Science at Loughborough University, UK in 1981. She served UM Library until 2004. As an active advocate, she has presented several papers at seminars and conferences both locally and overseas on issues pertaining to disability. Her work also involved the drafting of several memoranda to the government on the needs of Persons with Disabilities in Malaysia.
Bathma also believes in leading a healthy lifestyle. She involves herself in sports such as wheelchair tennis and para table tennis, and has represented Malaysia in table tennis at the Asean Para Games in 2009.
She is currently President of the Association of Women with Disabilities Malaysia and was a member of the National Council for Persons with Disabilities from 2013-2016. She was appointed as a first woman Senator representing persons with disabilities at the Upper House of the Parliament of Malaysia in November 2013, and served two terms until 2019.
In June 2020, Bathmavathi was appointed as a Non-Executive Director in the Board of Directors of SOCSO Rehabilitation Centre. In 2022 she served as a Disability Inclusion Officer at the UN Residential Coordinator's Office for a year. Bathma is currently a Resource Person with the Malaysian CSO-SDG Alliance since 2019.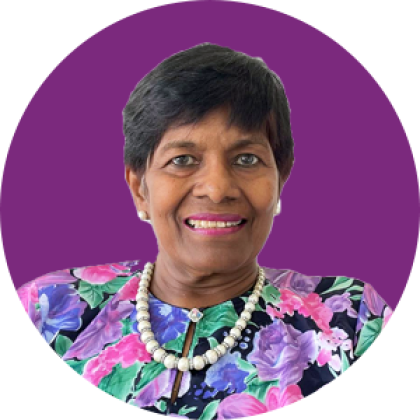 Founder & Personal Trainer